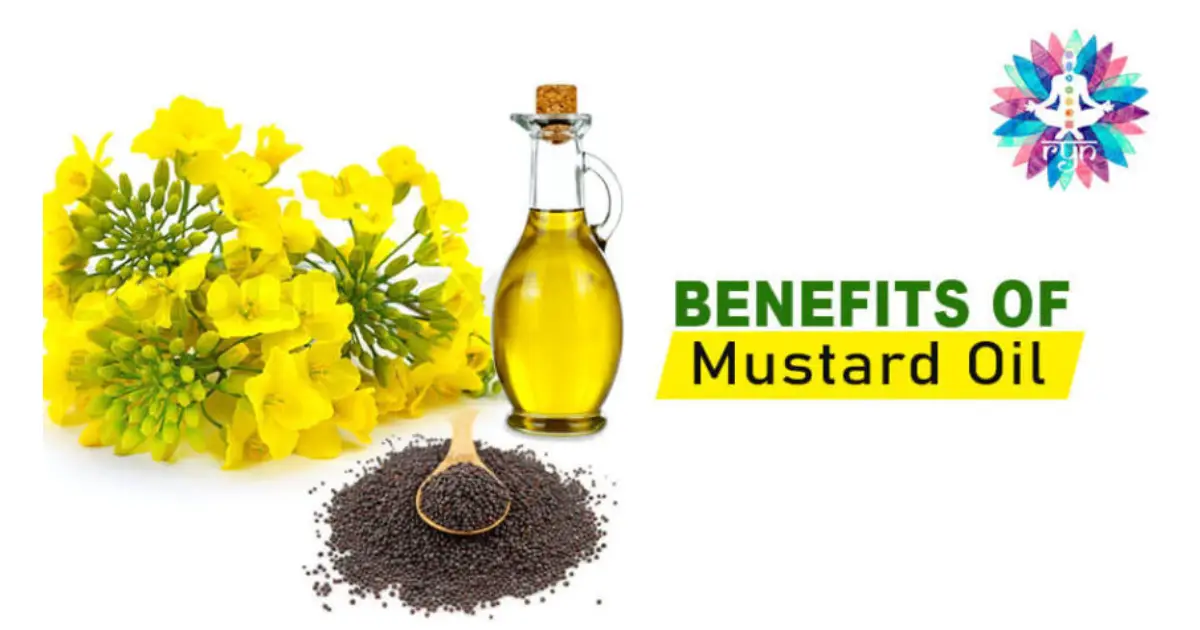 February 03, 2023
Benefits of Mustard Oil
No matter what Indian cuisine you go for, a common ingredient is mustard oil. The oil is produced from mustard plant seeds. Apart from a pungent smell, the flavor of mustard oil is pretty strong. The smoke point is quite high, and it is commonly used for preparing dishes that require stir-frying or sauteing. Apart from its use in preparing food, mustard oil is also used as a nourishment oil for the skin and hair. It also serves as a good massage oil.
Given below are the top 10 benefits of using mustard oil:
Restricting Growth of Microbes
Several tests have revealed that mustard oil has anti microbial properties. Therefore it can act as a powerful agent to restrict the growth of bacteria that are harmful. According to a study, mustard oil can help decrease the growth of many bacterial strains. These include Bacillus cereus, Staphylococcus, and Escherichia. Another study that compared the antibacterial properties of mustard oil, Mexican Oregano, and thyme revealed that among these three mustard oil happened to be the most potent agent. Also, a lot of other studies have revealed that mustard oil can also help to restrict the growth of several molds and fungi.
Hair and Skin Health
Mustard oil is used superficially for optimizing the health of the skin and hair. It is also added to home-made face masks for treatment. At times it is mixed with wax and applied on the feet for fixing a cracked heel. In several Asian countries mustered oil is used for massaging newborns. It helps to promote the skin barrier. It has also been reported that mustard oil can help improve wrinkles and fine lines. The best option is to go for a patch trial before the actual use of mustard oil on the skin or scalp. You are good to go if there is no irritation or discomfort.
Pain Alleviation
Mustard oil has a chemical compound – isothiocyanate. A lot of studies have been conducted to determine its influence on the pain receptors of the body. According to a study, a mix of mustard oil and plain water can help to desensitize pain receptors thereby treating pain that might be spreading fast. Mustard oil is rich in ALA (Alpha Linolenic Acid). It is a sort of omega-3 fatty acid that can help reduce pain and inflammation rising due to arthritis. The only thing that needs to be taken care of is prolonged exposure to avoid any kind of skin burn.
Inhibits Growth of Cancer Cells
A lot of studies have indicated that mustard oil can help to slow down the growth of cancer cells thereby restricting its spread. In one of the studies, it was found that mustard oil can actually restrict the growth of cancer cells as compared to fish or corn oil. Another study has revealed that mustard oil is rich in allyl isothiocyanate; a compound that can restrict the growth of cancer cells by almost 35 per cent in the bladder. Other studies have revealed that mustard oil can play a vital role in restricting Cancer growth among humans.
Improve Heart Health
Mustard oil is rich in monounsaturated fatty acids. It is a type of unsaturated fat that is present in plant oils, seeds, and nuts. These fatty acids extend a lot of benefits to the heart. Several studies have indicated that it can help to regulate blood pressure, blood sugar, and triglyceride in the body. All these are critical factors affecting the human heart. Health experts suggest that if saturated fat is replaced with monounsaturated fat, then it could go a long way to decrease bad cholesterol or LDL in the body. A comparative study has revealed that mustard oil is better than sunflower oil for the heart.
Reduce Inflammation
Mustard oil is topically applied to provide relief from arthritis, pain, and discomfort. It can help to lower inflammation due to Bronchitis or pneumonia. Research suggests that mustard seed oil can help relieve inflammation due to psoriasis. Mustard oil also contains Omega 3 fatty acids. That includes alpha lino lenic acid as well. Studies indicate that Omega 3 fatty acids can regulate the inflammatory process in humans. As a result, it is possible to lower inflammation and oxidative stress.
Treatment of Cold and Associated Symptoms
For a long time, mustard oil has been used as a natural remedy for treating cold and other conditions like congestion and cough. Mustard oil can be mixed with camphor and then applied directly on the chest. It is also possible to go for a mustard oil steam treatment where drops of mustard oil are added to boiling water followed by inhaling the vapor. It has also been proven that mustard oil can be effective in reading several respiratory issues apart from extending other benefits.
High Smoke Point
High smoke point is the temperature at which fat or oil starts down and produces smoke. If that happens it cannot only have a negative effect on the flavor of a food product but can also lead to the oxidization of fat thereby releasing reactive compounds called radicals that are harmful to the human body. The smoke point of mustard oil is high. Therefore, it is comparable with other fats such as butter. As a result, mustard oil is the common preference when it comes to cooking anything that requires high heat like baking, frying, roasting, and grilling. Also, mustard oil is rich in mono unsaturated fat. And it is much more resistant to degradation due to heat as compared to poly unsaturated fatty acids.
Improves Brain Function
Fatty acids present in mustard oil can help to improve the health of the brain. It has a positive influence on memory and cognitive functions. It also plays a vital role in the treatment of depression. At the time of exams, children can be given mustard oil for better memory functions.
Reduces Dental Problems
Mustard oil can significantly help to lower the harmful effects of dental problems such as gingivitis and periodontitis. A teaspoon of turmeric powder mixed with half a teaspoon each of mustard oil and salt can help whiten the teeth. This paste can lead to good dental health.
Hope it is clear to you now that there are a lot of benefits of mustard oil. It can help to reduce inflammation and pain, slow down the growth of cancerous cells, restrict the growth of microbes and keep the skin and hair healthy. It can also be diluted, or used as it is, as a massage oil or as a face mask. Mustard oil also has compounds that can improve memory and prevent dental problems.