Unleashing The Power Within:
A Complete Guide To Chakrasana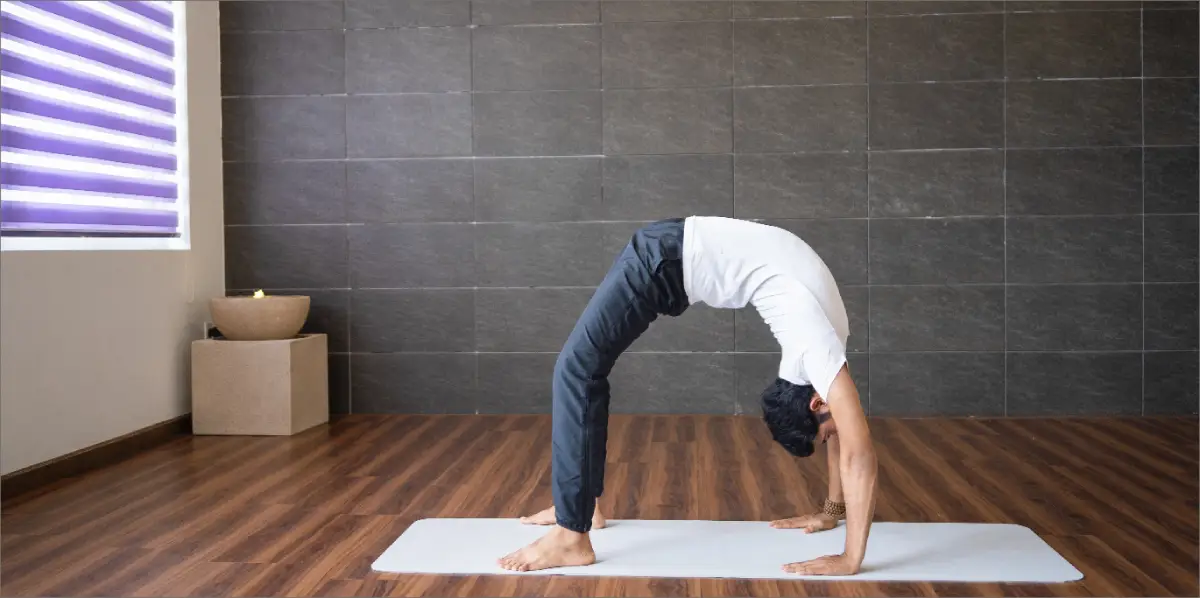 Chakrasana, sometimes referred to as the Wheel Pose is a well-known yoga posture. The Sanskrit terms "chakra," which denotes a wheel or circle, and "asana," which denotes a position or posture, are the source of the word's name. The Sanskrit term Urdhya Dhanurasana is another name often used for this asana. This dynamic and energizing backbend mimics the graceful form of a wheel or bridge. The person performing Chakrasana starts by lying on their back and lifting their entire body off the ground while pressing their hands and feet firmly into the ground to produce a graceful arch. This position requires balance, strength, and flexibility, as well as the use of several different muscle groups, including the arms, legs, core, and back. Beyond its physical advantages, Chakrasana serves as a significant yoga pose because of how it affects the chakras, or subtle bodies and energy centres. There are seven main chakras along the spine, each connected with distinct qualities and functions, according to yogic philosophy. The Anahata (heart) and Vishuddhi (throat) chakras, in particular, are thought to be stimulated and activated by Chakrasana.
The Wheel Pose, or Chakrasana, provides advantages for one's body, mind, and spirit. Physically, it strengthens the back and core muscles and develops general body flexibility while also enhancing spinal flexibility. It stimulates the endocrine system to maintain hormonal balance while stretching and opening the hip flexors, shoulders, and chest. Chakrasana helps improve mental clarity, releases pent-up stress and emotions, and fosters a feeling of empowerment. It increases self-esteem and self-confidence. In the spiritual sense, Chakrasana stimulates the chakras, especially the heart and throat chakras, which promote harmony, love, compassion, and connection. It is thought to awaken Kundalini energy, promoting spiritual development. When Chakrasana is practised correctly and under instruction, people can benefit from its holistic properties, which enhance their bodily, mental, and spiritual well-being.

Benefits of Practicing Chakrasana
Chakrasana can be practised to achieve substantial advantages for the body, mind, and spirit. This powerful asana improves general health and vitality by helping one gain physical strength, flexibility, and balance. Chakrasana practice is more than just a physical activity; it is a chance to go into the depths of your being and discover your inner strength and dedication. With regular practice, this pose has the potential to develop into a transforming tool for self-discovery, fostering a stronger bond between your body, mind, and spirit. The following are some major advantages of including Chakrasana in your yoga practice:
Physical Benefits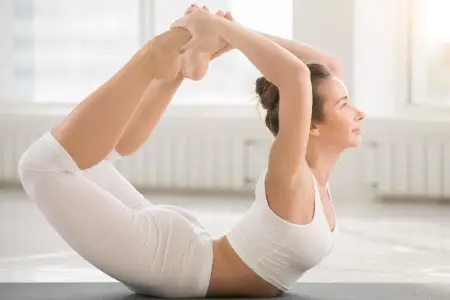 Improved Spinal Flexibility
Chakrasana gives the spine a significant stretch, promoting flexibility, better posture, and ideal alignment. Through deep spinal extension and release along the whole length of the spine, this dynamic pose fosters flexibility and mobility. Through regular exercise, the spine becomes more flexible, improving its ability to maintain good alignment and posture throughout daily tasks. Chakrasana develops a strong, upright posture by lengthening and energizing the spine. This helps to relieve stress and discomfort and cultivates an elegant and balanced physical presence.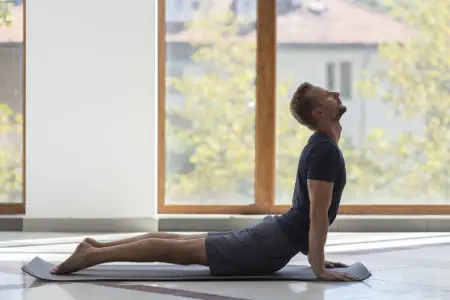 Strengthened Muscles
Chakrasana actively engages and strengthens a variety of muscle groups, such as the arms, legs, back, and core, which results in a noticeable increase in muscular strength and stability. These important muscle groups must be engaged in order to acquire and maintain the arching position in this dynamic pose. Chakrasana helps create a stronger, healthier back, a solid core, and toned arms and legs through frequent practice. The coordinated use of these muscle groups also promotes a feeling of better physical strength, balance, and stability.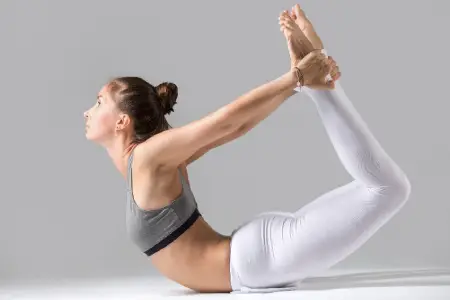 Enhanced Flexibility
Chakrasana promotes a wide-ranging deep stretch in a number of body parts, including the chest, shoulders, hip flexors, and quadriceps, which improves overall body flexibility. Individuals can get greater flexibility in these vital regions by performing Chakrasana on a daily basis, which can improve posture, make movement easier, and promote a person's sense of physical freedom. A more flexible and agile body benefits from the stretching and opening of these muscle groups during Chakrasana, promoting general well-being and fluidity in daily activities.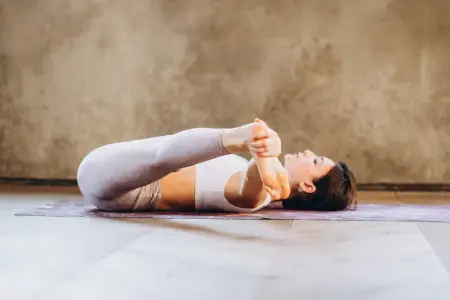 Increased Vitality and Energy
Chakrasana stimulates the body's circulation, engages the neurological system, and awakens the body, resulting in increased energy and a reenergized sense of vitality. Every cell in the body is awakened and given new life by this active posture, which encourages an increase in life force energy. Chakrasana revitalizes the entire being, giving a consistent surge of energy and vitality by increasing the nervous system's performance and promoting circulation. Practitioners often claim to have more energy, more endurance, and feeling better overall as a result.
Spiritual And Mental Benefits
Stimulated Energy Centers
Chakrasana acts as a catalyst for opening and balancing the chakras, allowing the life force, or prana, to circulate freely throughout the body. By energizing and balancing the energy centres, this posture promotes open prana flow, which nourishes and reinvigorates the entire body. Chakrasana encourages a harmonic fusion of the physical, mental, and spiritual components, generating a profound sense of well-being and inner harmony. It does this by awaking and balancing the chakras. Performing Chakrasana improves vigour, clarity, and general energetic equilibrium by serving as an outlet for the prana's transforming potential.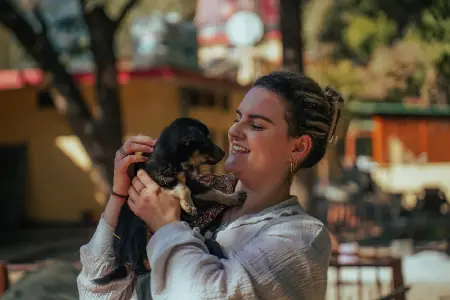 Boosted Confidence and Self-Esteem
Because it requires strength, balance, and unwavering mental attention, mastering Chakrasana cultivates a strong sense of self-confidence and self-esteem. Practitioners get a strong sense of confidence in their abilities by conquering physical difficulties and achieving stability in this dynamic position, fostering a good self-image and an empowered mindset. The transformational power of commitment, tenacity, and unflinching faith in one's own skills is demonstrated through Chakrasana, which leads to increased self-assurance and a heightened sense of self-worth.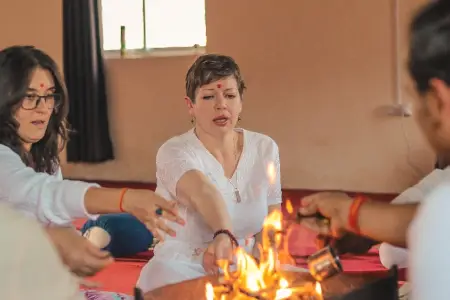 Heart Opening and Compassion
The chest and heart centres undergo transformation by Chakrasana, which cultivates a great sense of openness, love, and compassion for oneself and others. The chest opens and expands in this powerful backbend position, enabling the heart space to enlarge and radiate its energy. Practitioners thus frequently report having a greater ability for self-acceptance, empathy, and connection, both within and outside of their interpersonal relationships. Chakrasana is a powerful symbol of the heart's limitless capacity to receive and spread love and compassion.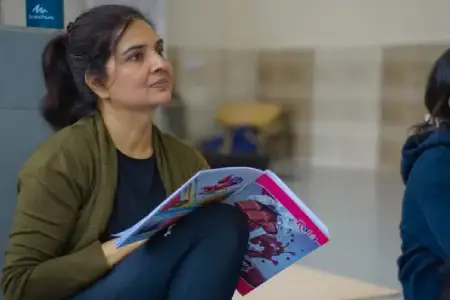 Spiritual Awakening
Chakrasana has a strong connection to the Kundalini energy awakening, which results in deep inner connection, spiritual transformation, and heightened levels of consciousness. By acting as a catalyst for the awakening and ascension of the dormant Kundalini energy, this dynamic and potent position enables the energy to freely flow through the chakras, the body's subtle energy centres. Practitioners of Kundalini might notice a significant expansion of awareness, an improved spiritual journey, and a greater comprehension of their actual identity and purpose as the energy awakens.